Completing the Circle
Completing the Circle is a trip down memory lane, a look back over Monty's long and varied life in music.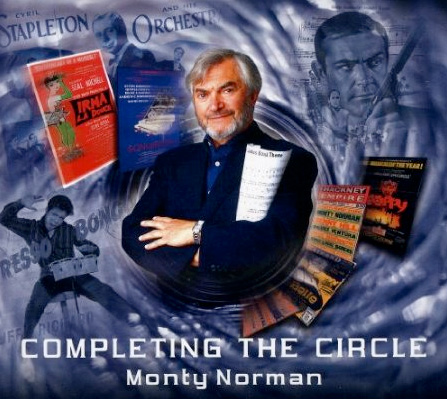 In 2005 Monty Norman released Completing the Circle, an album featuring new recordings of some his favourite work - songs he sang in his youth as a big band singer and numbers from his stage musicals. Although the album is currently unavailable here are his sleevenotes and some short track samples...
I Can't Stop Singin
Stage Musical:
Belle.
Music and Lyrics:
Monty Norman.
Publisher:
Warner Chappell.
My tribute to the piano, bass, electric guitar style of the Nat King Cole Trio (again something from my youth). I've altered the number, which was originally sung by a high soprano in my stage musical Belle, into a laid back love song for a low baritone. Guitarist Sam Dunn joins Paddy Milner's piano and Chris Hill's bass to do justice to the genre. Belle, opened in 1961 at the Strand Theatre and told the story of the infamous wife murderer, Doctor Crippen. It was a beautifully staged, outrageous, Grand Guignol musical that unfortunately suffered from the well known ailment of being ahead of its time (preceding Sweeney Todd and Phantom Of The Opera by a couple of decades). Wolf Mankowitz had set this very first black musical comedy in the Edwardian music hall and had written a wonderfully funny, tender script. The audiences loved it. The critics hated it. The show lasted eight weeks. But careers can turn on a sixpence. The main financial backer of the show was Cubby Broccoli. He loved my score. A few months later he commissioned me to write the score of the first James Bond movie, Dr. No. One never knows, do one!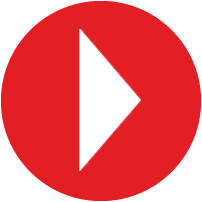 I Can't Stop Singin
Language Of Love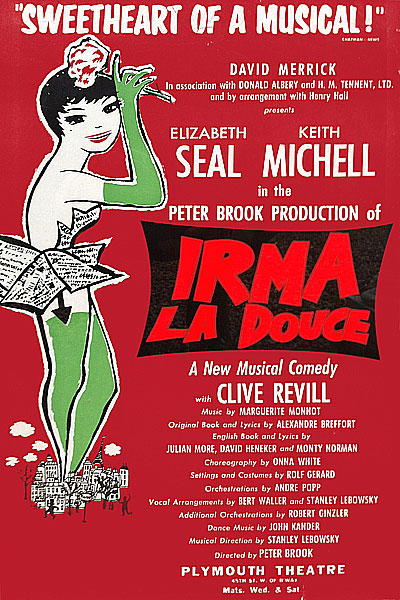 Stage Musical:
Irma La Douce.
Music:
Marguerite Monnot French.
Lyrics:
Alexandre Breffort.
English Lyrics:
Julian More/David Heneker/Monty Norman.
Publisher:
Warner Chappell
Irma la Douce ran five and a half years in the West End, at the Lyric Theatre, Shaftesbury Avenue, over a year on Broadway at the Plymouth Theatre, West 45th Street and has been successful in theatres throughout the world. In 1957 Peter Brook, who many regard as the greatest theatre director of the Twentieth Century, commissioned Julian More, David Heneker and me to write an English language version of a small Parisian musical by Alexandre Breffort and Marguerite Monnot. We stayed true to the essence of the original while creating new plotlines, characters, dialogue and reshaped songs. Language Of Love was originally sung in the show by Elizabeth Seal and Keith Michell and has been recorded by many top artists on both sides of the Atlantic. This is the only song where I have not written the melody but my admiration for Marguerite Monnot is such that I am honoured to include it on this CD. Once again I must pay tribute to Paddy Milner's orchestration and the RPO String Section's beautiful playing.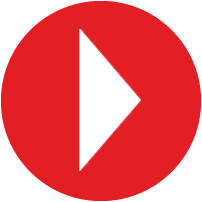 Language of Love
Seriously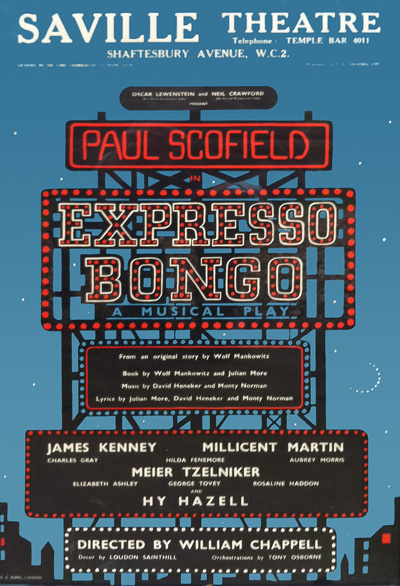 Stage and Film Musical:
Expresso Bongo.
Music:
Monty Norman/David Heneker.
Lyrics:
Julian More/Monty Norman/David Heneker.
Publisher:
EMI.
This song comes from Expresso Bongo, one of the first musicals I ever wrote. The show started life as an article by Wolf Mankowitz in the Daily Express - hence coining the word 'Expresso' for the coffee bars of the Nineteen Fifties. It was a satire about unscrupulous agents exploiting young innocent rock 'n roll kids singing in the Soho coffee bars. Wolf asked Julian More, David Heneker and me to turn it into a musical with him. It was a great experience writing with these great talents and I learnt a lot in the process. The show, starring that superb actor Paul Scofield as the agent, was a big success and ran for a year at the now defunct Saville Theatre. It was also turned into a film with Cliff Richard. Many years later, the magazine, Time Out called it "the first British rock 'n roll musical". Milicent Martin originally sang Seriously as the agent's long suffering mistress. I altered the lyrics for the male version and - with the RPO Strings, Paddy's piano and Ben Somers' low-down tenor sax - it's one of my personal favourites.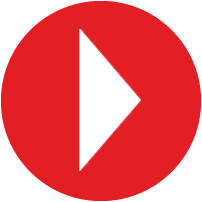 Seriously
Don't Play That Love Song Anymore, Sam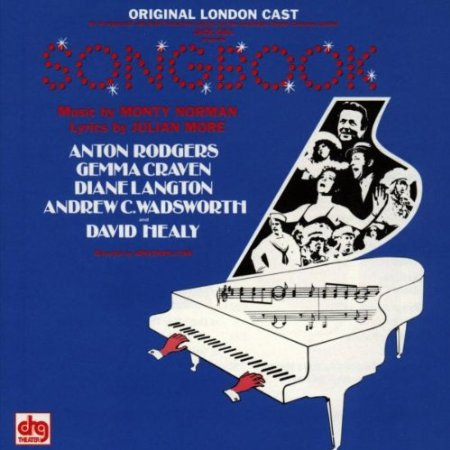 Stage Musical:
Songbook.
Music:
Monty Norman.
Lyrics:
Julian More.
Publisher:
Sony/ATV.
Julian More and I wrote a stage musical called Songbook about a fictitious songwriter called "Moony Shapiro". We told the story of his 'life' and 'songs' from the Nineteen Twenties to the Nineteen Eighties. It was a big hit, bringing us the Laurence Olivier, Ivor Novello and Evening Standard Awards for 'Best Musical' together with a Broadway Tony Nomination. The song, with a lovely haunting lyric by Julian, was a subtle tribute to Humphrey Bogart in Casablanca as well as climaxing a major plot moment for Moony's put-upon wife - sung beautifully in the show by Gemma Craven.
This is the only number on the CD that has the original trio of Paddy Milner's piano, Chris Hill's bass and Adam Skinner's drums without any instrumental augmentation. Which is where this whole musical journey began.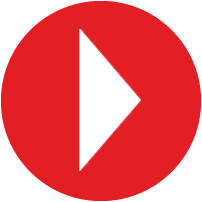 Don't Play That Love Song Anymore, Sam
Bad Sign, Good Sign
Stage Musical:
A House For Mr Biswas.
Music:
Monty Norman.
Lyrics:
Julian More.
Publisher:
EMI Music Publishing.
Julian More and I, in the very early Sixties, wrote the first draft of a stage musical called A House For Mr Biswas based on a Best Selling novel by V.S. Naipaul and set in the Asian community of Trinidad. Unfortunately for us, the show was found to be prohibitively expensive and even worse, in 1960 it was pretty near impossible to find an all Asian and West Indian cast in London. So the songs never got further than one or two live demos and the show was sadly abandoned. With a heavy heart, I did what all composers do with their obsolete songs, I put all my melodies from Biswas, including Bad Sign Good Sign, into my bottom drawer hoping one day to resurrect one or two of them in some other context. As time moved on, many people suggested I record the progenitor of the signature theme first heard in Dr. No. So, with musical cuts of the middle production area, and with the help of Mehboob Nadim's evocative sitar and Pandit Dimesh's terrific tabla rhythms the embryonic melodies of the James Bond Theme, for the first time in nearly forty-five years, can be heard in their original form.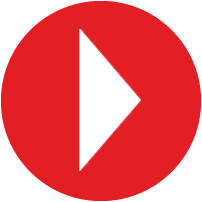 Bad Sign, Good Sign
James Bond Theme (Instrumental)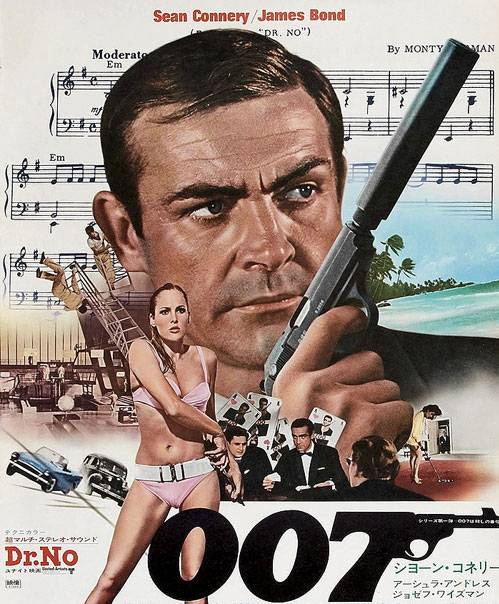 Film:
Dr. No.
Music:
Monty Norman.
Publisher:
EMI United Partnership Ltd
An audio/visual CD gave us the pleasant opportunity to incorporate some James Bond flavoured tracks. First and foremost, the James Bond Theme itself. After the many wonderful and varied orchestrations in the past twenty films, from John Barry's original orchestration to David Arnold's latest ones - as well as the hundreds of unrelated others recorded during the past forty years - we looked towards a slightly different approach. Paddy Milner is a terrific musician, a terrific orchestrator and a terrific jazz/boogie pianist so it seemed obvious to me that we should move away from the filmic and the guitar based sounds and give it a jazz-cum-pianistic quality. With a great solo from Ben Somers' tenor sax, plus John Radford's trumpet, Bob Dowell's trombone, the driving rhythm of Adam Skinner and Chris Hill and the fantastic piano pyrotechnics of Paddy Milner himself, I hope we have achieved something a little out of the ordinary!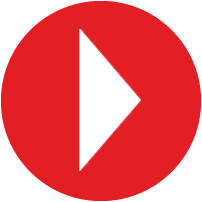 James Bond Theme
Underneath the Mango Tree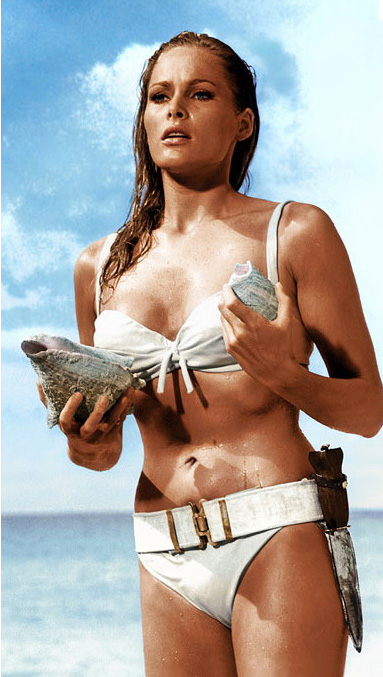 Film:
Dr No.
Music and Lyrics:
Monty Norman.
Publisher:
EMI United Partnership Ltd.
I decided to sing another song from Dr. No. and this was the obvious choice. Mango Tree has a special place in my heart. It brings back memories of that Jamaican film location together with its amazing continuing popularity through the years. It all began when Cubby Broccoli asked me to write something for the first moment we see Ursula Andress as Honey Ryder coming out of the sea like some gorgeous mermaid, while being observed by Sean Connery's James Bond. The scene has taken its place as one of the great moments in cinema history and I am proud to have been a part of it. In this version I have tried to retain some of the original Caribbean atmosphere but without attempting the Jamaican patois. Randall Breneman's acoustic guitar playing is the perfect accompaniment.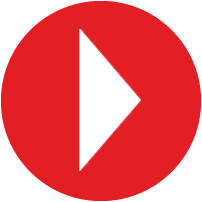 Underneath the Mango Tree
Dum Diddy Dum Dum
Music and Lyrics:
Monty Norman.
Bad Sign, Good SignMusic:
Monty Norman.
Lyrics:
Julian More.
The James Bond Theme Music:
Monty Norman.
Publisher:
EMI United Partnership Ltd.
On innumerable press, radio and TV interviews (to say nothing of a rather well-known court case) I have explained the derivation of the James Bond Theme. Basically it can be boiled down to this: I dug out Bad Sign, Good Sign from my bottom drawer, split the slurred Indian style melody into separate notes and immediately realised I had the mood, ambience and character of James Bond in those few bars! The rest, as they say, is history. But how to depict all that in a song? I finally came up with the idea of writing the story in more or less chronological order, interspersing it with sections of Bad Sign, Good Sign and finishing up with the James Bond Theme proper. With the help of Randall Breneman's funky guitar, a driving rhythm, plus sitar, tabla and Paddy Milner's orchestration and piano this is what we've come up with!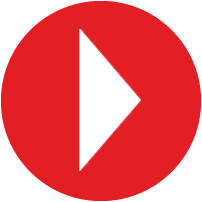 Dum Diddy Dum Dum
I'm Warming Up My Embouchure
Stage Musical:
Just Another Friday.
Music and Lyrics:
Monty Norman.
Publisher:
Armont Music.
Paradoxically, this is a Trad Jazz number I wrote in 1993 for a big band musical called Just Another Friday. It is sung by a trumpet player called Hot Lips Jones who is having a little trouble with his 'new gal Sal'. Incidentally, don't bother seeking out the show because it never went into production. If you listen to the lyrics you will find several technical references to trumpet playing. If you find any double meanings in the technical references, well, perhaps you're a man - or woman - of the world!
(Embouchure: "The disposition of the lips... necessary for producing a musical tone ". Oxf. Dict.)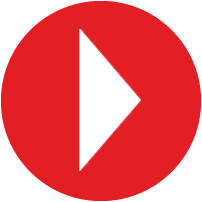 I'm Warming Up My Embouchure
'Completing the Circle' is currently unavailable.